Media for Maximum ROI
Good people getting great results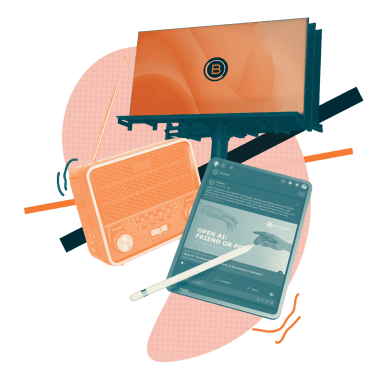 Our Goal is Simple: Drive Your Business
Our highly experienced media team drives business performance with omnichannel media strategies that place your brand when, where and how your customers expect to encounter you on their path to purchase. We use data-driven targeting and optimization to ensure that your campaigns are reaching the right audience at the right time to achieve your goals.
Our Philosophy: Keep It Nimble
Understanding your customer.
It begins with a full understanding of your customer's expectations so that the media strategies and the experience drive repeat customers, not just fleeting purchasers.
Map their journey.
The buyer's journey is not linear. An agnostic media mix is developed so your brand is there during key decision moments to ensure maximum ROI.
Follow the data.
Go where the data leads. Focus on performance-based portfolio management to allow fluid media budgeting and proactive strategy optimizations around where to put your next dollar.
Data Enables Us to Be Nimble and Effective
Every business is unique, which is why we get to know your "data story" to help us tailor our approach specifically for your business. We will be a true extension of your team, working collaboratively to develop media strategies that fit your budget, timeline, and ever-changing priorities. Testing, learning and optimizing the media plans based on where the data leads us. Whether you're looking to increase your website leads, boost sales in a particular market, or improve your online reputation, we have integrated media planning and buying services to help drive your business forward.
You Get the A-Team. Every Time.
10.5 Years Avg. Team Member Tenure
A Team of Ex-Media Holding Company Employees
Account Transitions Made Easy With Our "Do No Harm" Approach
Data Scientists and Engineers Keeping Us Efficient and Effective
OOH

Audio

Broadcast Media

Trade Media

Native Advertising
Partnering With The Best in the Biz.